Includes a free router for either service. Installation in 3-6 weeks! Subject to availability.
Business Wireless Internet Connectivity
For the ultimate in business wireless connectivity, DigiLink offers Synchronous Wireless, providing businesses with carrier-grade tough, high performance, wireless service.
Business Class Synchronous Wireless Connectivity.
Synchronous Wireless is DigiLink's new carrier grade, state-of-the-art wireless service. DigiLink's Synchronous Wireless service can provide your business with symmetrical internet bandwidth from 1.5M to 1Gbps. Synchronous wireless is a GPS timed system that provides 100% CIR and QoS to support all applications and voice services. DigiLink's Synchronous Wireless meets or exceeds the reliability of standard T1 wired services that businesses can rely on.

DigiLink's synchronous wireless can help your business gain a competitive advantage in a number of crucial ways:


Sychronous Wireless Advantages
Standard lightning fast speeds of 1.5 Mbps to 1Gbps symmetrical bandwidth
Specialized high speed service of 10, 15, 30, 50, 100 Mbps and 1Gbps
Quality of service provides a constant bit rate with 100% CIR and QoS for voice services
Carrier-grade toughness, high performance, and low latency(<10ms)
Encrypted to ensure secure data delivery and exceptional reliability
Support for high in-demand network services like VoIP, gaming, video services, and security surveillance
Global Positioning System (GPS) synchronization allows high-tolerance to interference
Advanced scalablility allows your business to easily handle growth
Exceptionally efficient and affordable community, small business, or corporate wirelss solution
Fixed IP address
Fast (usually one business day) Installation handled entirely by DigiLink

*-Some restrictions apply. See below.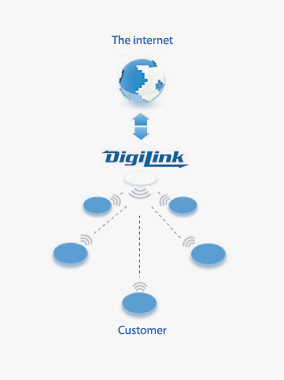 DigiLink's Synchronous Wireless is offered with a choice of payment plans, either one, two, or three year terms at exceptionally affordable price points that can support all your business processes.

This service is ideal for community, SMBs and enterprise environments including corporate, entertainment, utility, healthcare, legal, real estate, education and more.
Providing high-speed Wireless internet access to businesses in: Santa Monica, Culver City, Marina del Rey, Century City, Playa del Rey, West Los Angeles, and Venice.
We engineer high performance service directly from your network to the core of our fully switched network, via carrier class fiber optic connections. This results in a completely uncongested connection with one hop onto the internet, without the need to go through clouds or failure prone remote points of presence.
*Note
# Coverage area is up to 10 miles of our office building in Marina del Rey, CA and there must be line of sight between customer's premise and our office.
# Setup costs do not include inside wiring from antenna location to customer's equipment.
# Bandwidth may be limited based on distance and other factors that can only be determined at time of installation.
# Business service is symmetrical bandwidth. Rates show download/upload bandwidth.