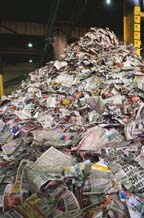 Is your e-mail box overflowing with unwanted and unsolicited junk mail ("spam")? Are you concerned about the security threat that e-mail viruses pose? Both spam and viruses represent a very real headache for users and corporate network administrators alike.
DigiLink has a solution!
Our Anti-Spam/Anti-Virus service is designed to minimize these problems.This optional service can scan your inbound messages before they are passed along to your mail server.
To combat spam, a sophisticated rules-based engine scans the messages for telltale signs that the message is unsolicited bulk e-mail, and assigns a score to the message. When the incoming message scores above the threshold for what is considered to be spam (a score of 5 or more), special headers are added to the message and an analysis report is added as an attachment to the message.
The additional headers can then be used by the user's e-mail client software (when properly configured by the user or the user's network administrator) to take appropriate action on the message, from deleting the message to moving it to a special low-priority folder. This is typically accomplished through the "rules" or "organization" filters in the user's client software. DigiLink recommends that messages flagged as spam be moved to a low-priority folder and held for a period of time before being deleted. This provides the ability for a message to be manually retrieved should the user become aware that an inbound message that was flagged as spam and thus filed away in the low-priority folder was actually important.
Typically the rules filters can be adjusted as the user learns more about how he or she wishes his or her mail to be handled. For example, a rule might be set up that moves all mail with a spam score greater than 8 (5 is the threshold for being tagged as spam) to the low-priority "spam" folder, unless the mail comes from certain domains (like the user's own domain, and/or the domains of frequent associates).
Lists of included ("white-listed") and excluded ("black-listed") domains are used to pre-filter mail based on its source. You can add to each list by passing details to DigiLink of domains to be included or excluded in this list.
To combat viruses, attachments that are of a type that are frequently associated with security risks (possible viruses) are removed from the message, and the message is annotated to indicated that a possible virus was removed.
All attachments with the following extensions (which are commonly understood to pose a security risk) will be removed and quarantined:
ade, adp, bas, bat, chm, cmd, com, cpl, crt, dll, exe, hlp, hta, inf, ini, ins, isp, jse, lib, lnk,mdb, mde, msc, msi, msp, msp, mst, ocx, pcd, pif, reg, scr, sct, shb, shs, sys, url, vb, vbe, vbs, vxd, wsc, wsf and wsh.
Quarantined (removed) attachments will be kept on DigiLink's systems for a period of seven (7) days, during which time customer may request the file to be sent. After seven (7) days, quarantined files are permanently deleted. The Anti-Virus detection parameters are not customizable at this time.
Pricing
Large Enterprise Package
$195/month per domain (unlimited users)
Setup: $250
Small Enterprise Package
$50/month per domain (1-25 unique e-mail addresses)
Setup: $95
Pre-Paid Additions (optional)
Additional domain: $50/month per domain
Workgroup Package
$2/month per user (in blocks of 5 users, minimum 10 users)
Setup: $95
Confused? Don't let it overwhelm you. Just give us a call, and we will answer your questions, explain the details, and help you to find the solution that is right for your business.